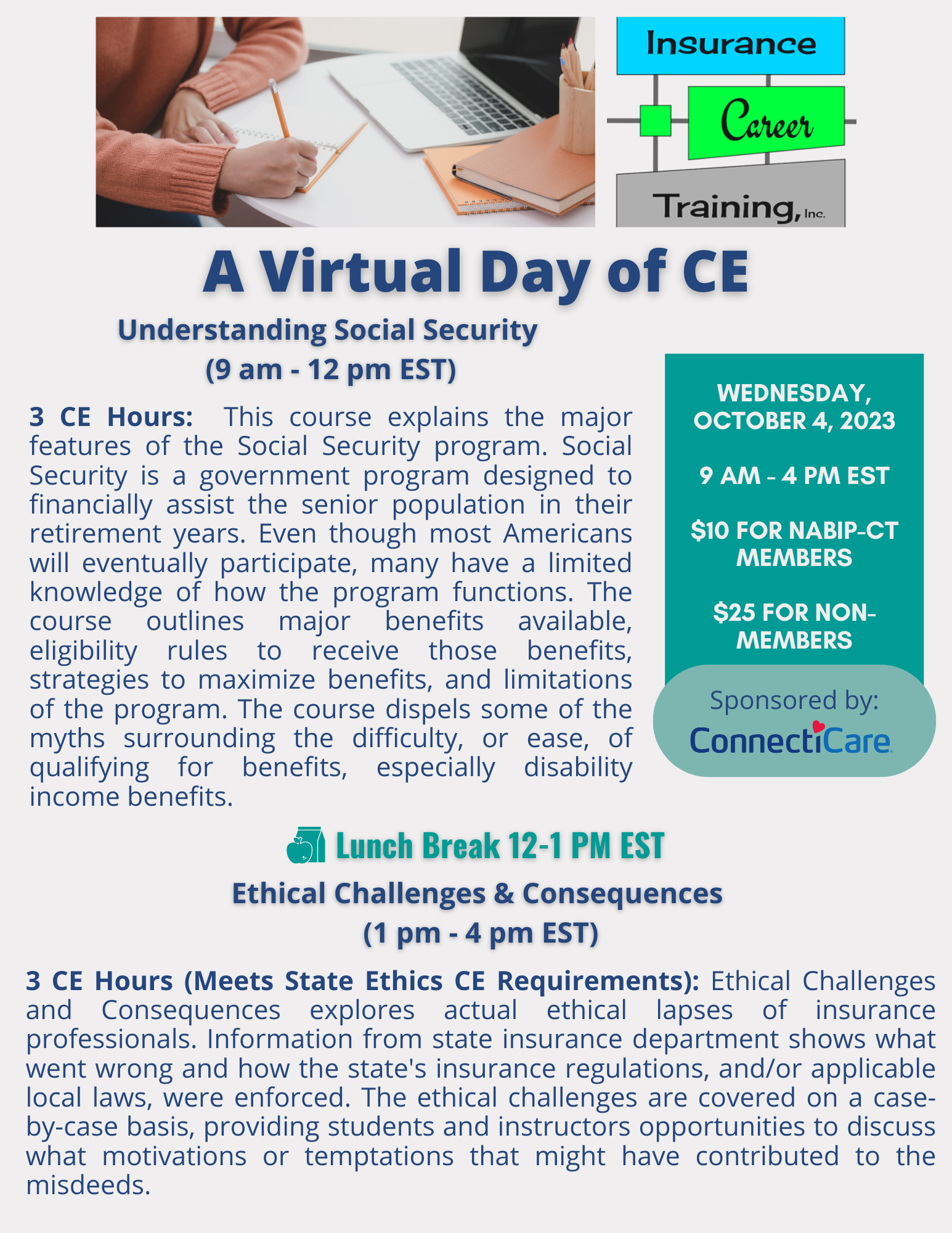 Virtual CE Class Sponsored by ConnectiCare
Thank you to for sponsoring this virtual CE Event!
Below is the schedule for the two-part CE class on Wednesday, October 4th.

9:00 AM EST – 4:00 PM EST (There will be a lunch break between classes from 12:00 PM – 1:00 PM):
CLASS 1:
UNDERSTANDING SOCIAL SECURITY – 3 CE HOURS – 9:00 AM to 12:00 PM ET
This course explains the major features of the Social Security program. Social Security is a government program designed to financially assist the senior population in their retirement years. Even though most Americans will eventually participate, many have a limited knowledge of how the program functions. The course outlines major benefits available, eligibility rules to receive those benefits, strategies to maximize benefits, and limitations of the program. The course dispels some of the myths surrounding the difficulty, or ease, of qualifying for benefits, especially disability income benefits.
CLASS 2:
ETHICAL CHALLENGES AND CONSEQUENCES – 3 CE HOURS – 1:00 PM to 4:00 PM ET  (Meets State Ethics CE Requirements)

Ethical Challenges and Consequences explores actual ethical lapses of insurance professionals. Information from state insurance department shows what went wrong and how the state's insurance regulations, and/or applicable local laws, were enforced. The ethical challenges are covered on a case-by-case basis, providing students and instructors opportunities to discuss what motivations or temptations that might have contributed to the misdeeds.
Registration Costs: $10 For NABIP-CT Members and $25 for Non-Members